FastGene Dye Terminator Removal Kit (50 preps)
Catalogue Number: FG-9411
Details
FastGene® Dye Terminator Removal Kit removes dye terminator molecules from sequencing samples using an efficient and reasonably priced gel filtration. The Kit includes a bottle of gelfiltration matrix, resuspension buffer and filter spin columns. At first an aliquot of the matrix will be mixed with resuspension buffer. Thereafter the equilibrated matrix is transferred into filter spin columns. After a brief spin, up to 20 µl of the sequencing reaction can be loaded onto the column. The last centrifugation step will elute the purified sample. All kit components can be stored at room temperature.
Application data
The DNA purified by the FastGene® Dye Terminator Removal Kit shows a very good performance in sequencing experiments, no dye blobs occur.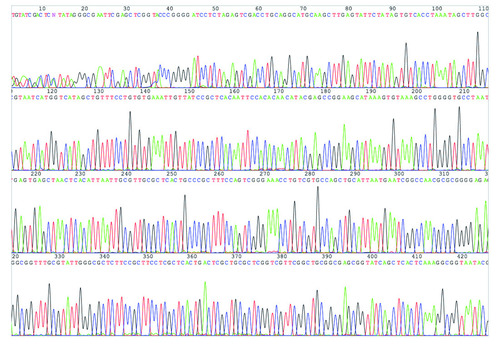 Fig. 1: 20 µl sequencing reaction including 2,5 µl BigDye™ Terminator v3.1 was purified with FastGene® Dye Terminator Removal Kit and analyzed on an ABI 3100 sequencer.
Specifications
| | |
| --- | --- |
| Parameter | Dye Terminator Removal |
| Max. sample volume | 20 µl sequencing reaction |
| Recovery | > 90% |
| Prep time | 5 minutes |
| Store at | room temperature |
Protocol
Downloads