Trastuzumab ELISA Herceptin ELISA Pharmacokinetic ELISA Biosimilar
INTRODUCTION
Trastuzumab (Herceptin®) is a humanized recombinant monoclonal antibody used for the treatment of primary breast cancers overexpressing human epidermal growth factor 2 (HER2). Repeated dosing of Trastuzumab has been reported to induce a neutralizing antibody response resulting in reduce efficacy of Trastuzumab. This kit allows researchers to qualitatively monitor the presence of anti-Trastuzumab antibodies in biological matrices.

PRINCIPLE OF THE ASSAY
This immunogenicity assay employs the bridging ELISA technique. Capture antibody is precoated onto a 96 well microplate. Quality control and test samples are pipetted into the appropriate wells. Anti- Trastuzumab present in biological matrices is bound by the immobilized capture antibody. After washing away any unbound substances, secondary antibody is added to the wells and after a final wash a detection reagent is added. The plate is washed to remove any unbound antibody-enzyme reagent and a substrate solution is added to the wells for color development.
The color development is proportional to the amount of anti-Trastuzumab present in test samples. Three levels of QC samples give a qualitative reference signal which can be used to determine the level of anti-Trastuzumab antibody in the unknown samples. The color development is stopped and the intensity of the color is measured.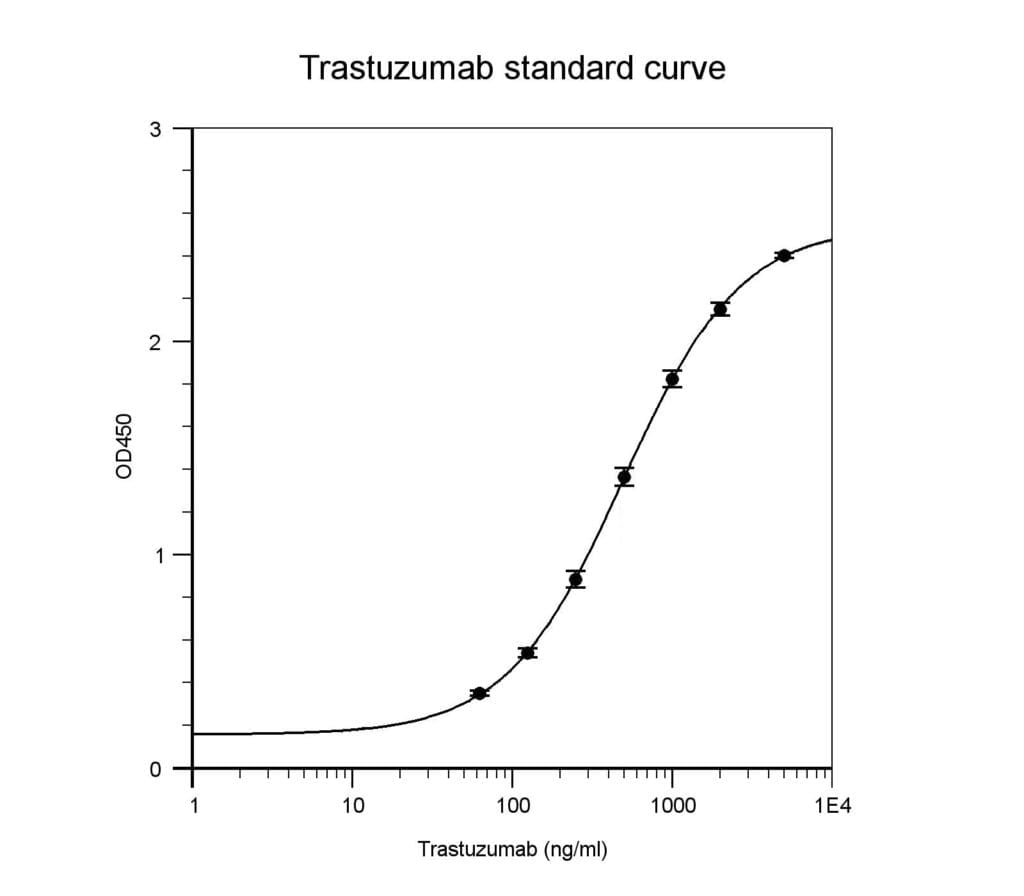 The standard curve was generated with the supplied calibrator using the recommended conditions. Each sample was run with 6 replicates. Intra-assay coefficient of variance is <10%.
Product Properties

CATALOGUE NUMBER: EL-1611-201
DETECTION METHOD
Peroxidase / OD450
STORAGE AND STABILITY
Stable at -20°C for 1 year
SAFETY WARNINGS AND PRECAUTIONS
Research Use Only. Follow instructions.
PRECISION
Intra-assay coefficient of variation (CV) <10%. Inter-assay CV <10%.
DETECTION LIMIT
31.3ng/ml
EACH KIT INCLUDES:

Coated microtiter plate, 96 wells
QC samples - 4x50ul
10X wash buffer - 25ml
Assay buffer - 50ml
1000X secondary antibody - 17ul
1000X detection reagent - 17ul
TMB - 12ml
TMB stop solution - 12ml
Plate sealers - 3