FlyFectin™

 

Transfection Reagent

 

is a powerful reagent based on the

 

TEE-technology

 and specifically designed to obtain highly efficient and reproducible transfection of insect cells. It is adapted  to the delivery of all types of nucleic acids.

 

FlyFectin™

 

can be used for many applications including the production of  recombinant protein using Baculovirus expression system.
FlyFectin™ has been effectively used with several insect cells. Ag55, Anso, Asd43, Bm5, Cl8, Cpp512, High5, IPBL-SF21, Kc167, Ld652, Mos20, S2, Sf9, SL-2, SL-3, SPC-SL52. 
Dedicated to insect cells

Ideal for production of recombinant protein using Baculovirus expression system.

Non toxic

Serum compatible

Simple, Ready-to-use and Rapid
Sizes:
500 µL (FF50500): 125 transfections with 1µg of DNA

1000 µL (FF51000): 250 transfections with 1µg of DNA

5 mL (FF55000): 500 transfections with 1µg of DNA
Storage: 4°C 
Shipping Conditions: Room Temperature
Application
Suitable for all nucleic acid delivery: DNA, oligonucleotides, RNA...

Perfect for all transfections in insect cells:

Transient or stable transfection

with or without serum...
RECOMMENDED FOR: Transfection of insect cells
Results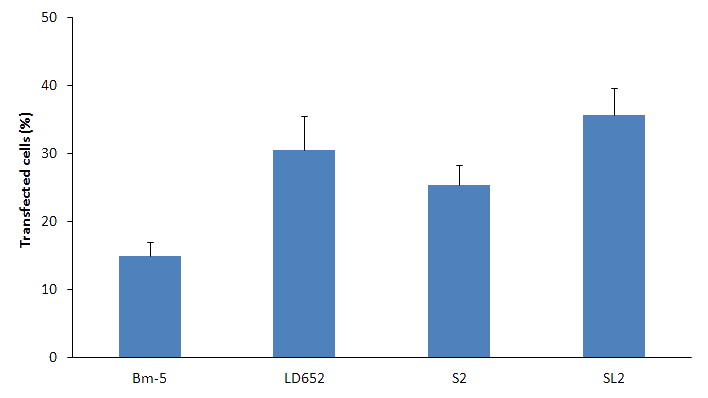 Figure 1: Transfection of various insect cell lines with FlyFectin. Cells were transfected in 6 well plate (LD652 and SL2) or in 25cm2 flask  (S2 and Bm-5) with 2 μg of DNA (6 well) or 15-20μg DNA (flask) and 5 to 6 μL of FlyFectin per μg of DNA. Transfection efficiency was monitored 18 to 72 h after transfection.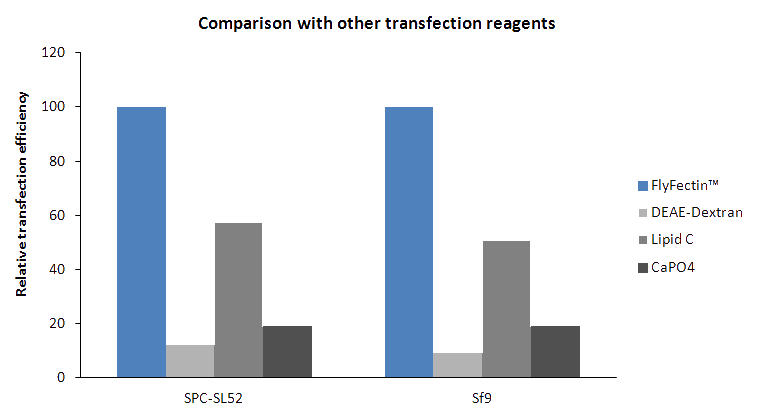 Figure 2: Comparison between FlyFectin and other transfection reagents. Cells were transfected according to the instruction manuals. Luciferase activities were measured with a Luciferase assay kit and results are expressed as relative values.