Ab-DeliverIN™ Transfection Reagent is the first reagent dedicated to the intracellular delivery of fully functional antibodies. Ab-DeliverIN opens up new fields of investigation in proteomics, for instance to elucidate complex molecular mechanisms or to design new potential therapies.
Intracellular delivery of functionally active antibody
Highly efficient in many primary cells and cell lines
Serum compatible
Biodegradable and non toxic
Straightforward protocol and ready-to-use reagent
Ab-Deliverin™ is provided with 100µL of FITC labeled IgG Postive control.
Sizes:

100µL (

AI20100)

: 50-100 assays
250µL

(

AI20250)

: 125-250 assays
500µL

(

AI20500)

: 250-500 assays
1000µL

(

AI21000)

: 500-1000 assays 
Storage: +4°C Ab-deliverIN / -20°C FITC labeled IgG
Shipping conditions: Room temperature
Application
Suitable for all kinds of antibody
Efficient on primary cells and cells lines
Ideal for your delivery applications

Intracellular localization studies in living cells
Protein function with blocking antibodies
Protein-protein interaction blocking
FRET studies
RECOMMENDED FOR: Intracellular delivery of antibodies.
Results

Figure 1 : Intracellular delivery of fluorescently labeled IgG into various cells. Fluorescently labeled polyclonal IgG from human serum was delivered into cells seeded in a 24-well plate using 1 μg FITC-IgG and 2 μL Ab-DeliverIN per well. After 24h, cells were fixed and observed under fluorescence microscopy. Left: CHO; middle: BHK-21; right: HEK293.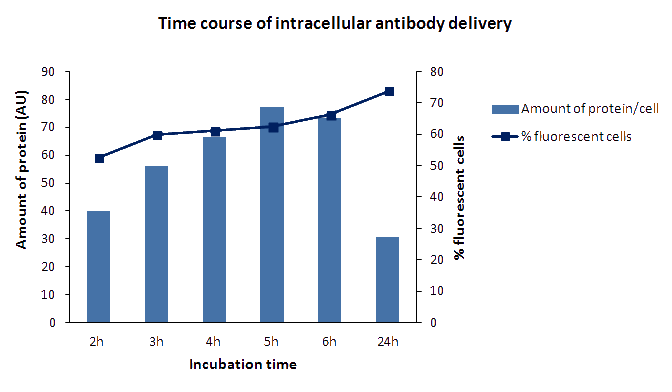 Figure 2 : Time course of intracellular antibody delivery. 1μg of FITC-labeled antibody was delivered into NIH3T3 cells with 2 μL of Ab-DeliverIN in 24-well plates. Cells were collected and fixed with 2% PFA at the indicated time point. The number of fluorescent cells and the mean of fluorescence were determined by cytofluorimetry. The mean fluorescence was used to evaluate the amount of antibody internalized inside cells.