CombiMag Transfection Reagent is the only existing reagent based on the use of magnetic nanoparticles (Magnetofection™), for improving your transfection reagent efficiency. It has been designed to be employed in association with any commercial transfection reagent and can be used with all types of nucleic acids. It has been successfully tested on a broad range of primary cells, hard-to-transfect cells and cell lines. Its efficiency has been reported in many publications. CombiMag allows creating your own optimal delivery system with at least 30%  transfection efficiency enhancement. 
Ideal to enhance any transfection reagent efficiency without changing your protocol /cells

Perfect for primary cells and hard-to-transfect cells

Increase any transfection reagent efficiency

Non toxic

Compatible with and without serum

Simple, rapid and easy-to-use

For all types of nucleic acids
Sizes:
100 µL (

CM20100)

: 100 transfections with 1 µg of DNA
200 µL 

(

CM20200)

: 200 transfections with 1 µg of DNA
1000 µL

(

CM21000)

: 1000 transfections with 1 µg of DNA
Storage: +4°C
Shipping conditions: Room temperature
Application
Boost all commercial transfection reagents.

Ideal for mammalian cells: Cell lines, primary & hard to transfect cells.

Perfect for all transfections applications:

Transient or stable transfection

gene silencing

in presence or absence of serum

Suitable for all nucleic acids: DNA, oligonucleotides, mRNA, siRNA, shRNA...
RECOMMENDED FOR: enhancing any transfection reagent efficiency of primary and hard-to-transfect cells
Results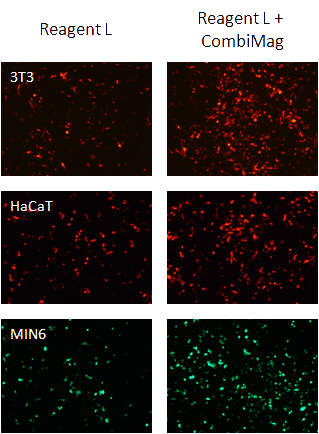 Figure 1:Transfection of various cell lines using a commercial transfection reagent alone or in combination with CombiMag.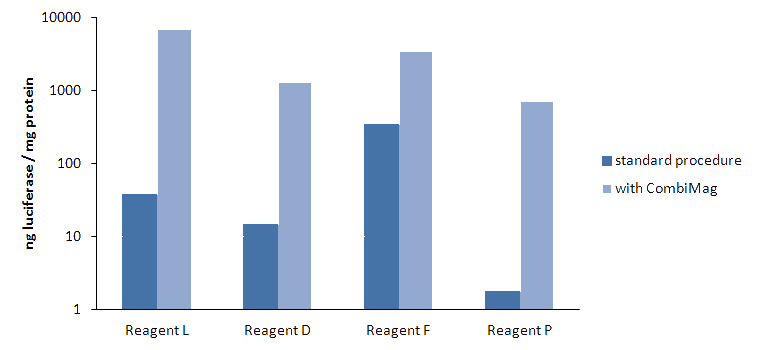 Figure 2: Luciferase expression in primary rabbit articular chondrocytes transfected with various commercial reagents without or with CombiMag. We are grateful to Dr. U. Schillinger (Technical University, Munich) for kindly providing these data.