HeLaFect is a transfection reagent specifically developed for HeLa cell lineage transfection with high efficiency. HeLaFect is a lipid-based reagent based on the Tee-Technology ("Triggered Endosomal Escape"). The cationic design of HeLaFect reagent allows high nucleic acid compaction for an efficient transport into HeLa cells. This reagent is composed of biodegradable lipids leading to high viability and is ready-to-use.

HeLaFect transfection reagent benefits:
Highly efficient: more than 80% of transfected HeLa cells
Ready-to-use: no need for additional buffer
Low nucleic acid amount - minimized toxicity
High level of nucleic acid compaction
Easy and straightforward protocol
Compatible with any culture medium: medium change not required
Sizes:
500µL (HF20500): 125-250 transfections with 1µg of DNA
1mL (HF21000): 250-500 transfections with 1µg of DNA
5mL (HF25000): 1250-2500 transfections with 1µg of DNA
Storage: -20°C
Shipping Conditions: Room Temperature
Application
RECOMMENDED APPLICATIONS: Nucleic acids transfection into HeLa cells. 
Results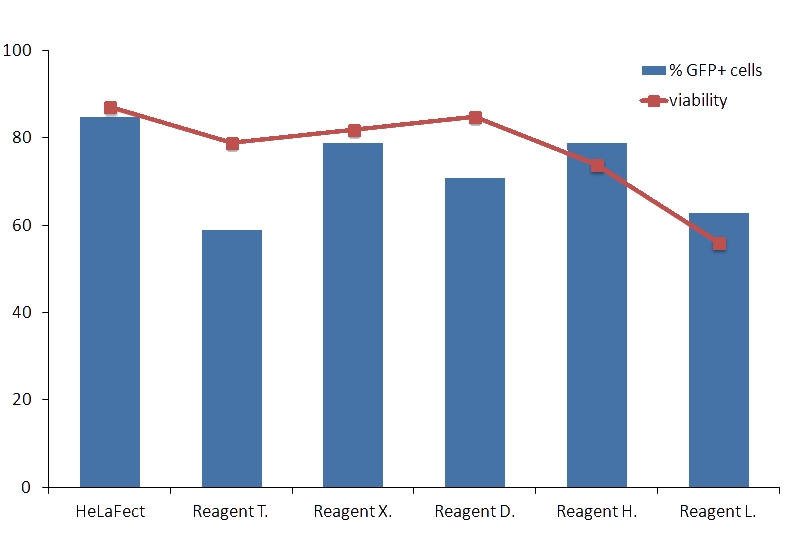 Figure1: Complexes of DNA and HeLaFect were prepared with 0.5 μg per well in a 24-well plate at a 2:1 ratio, and DNA transfections with other commercial transfection reagents were performed as recommended by the manufacturers. 24 h after, transfection efficiency was measured by FACS analysis and fluorescence microscopy.