Mag4C Conservation Buffer can be added to viral stocks for long-term storage. It allows maintaining virus infectivity even after multiple freeze/thawing cycles. Two different buffers are available depending on the virus: Ad-Conservation Buffer for adenoviruses & Lv-Conservation Buffer for lentiviruses and retroviruses.
The Conservation Buffer:
Preserves virus infectivity during storage
Minimizes the loss of viral titers during storage and freeze/thaw cycles
Can be used to conserve viruses bound to Mag4C beads

Sizes: 
Mag4C-LV Conservation Buffer 1 mL (LVB1000)

Mag4C-AD Conservation Buffer 1 mL (ADB1000)


Storage: +4°C
Shipping Conditions: Room Temperature
Application
RECOMMENDED FOR: Conservation of adenoviruses (Mag4C-Ad conservation buffer) and lentiviruses (Mag4C-Lv conservation buffer).
Results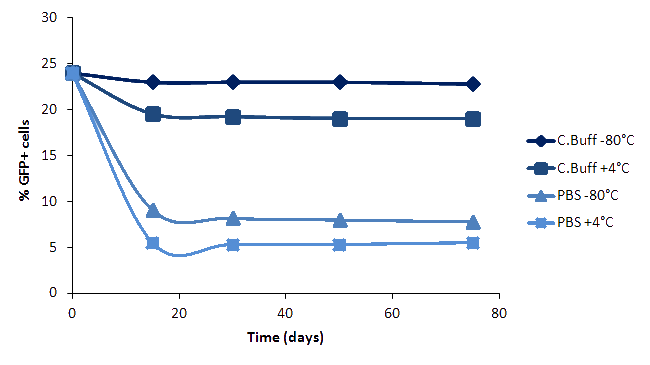 Figure 1: Viruses stored in conservation buffer maintain high infectivity over long-term storage. GFP-encoding adenoviruses were stored either in PBS or in Ad-conservation buffer at -80°C or +4°C. At regular time points, viruses were assayed for transduction ability in COS7 cells and the percentage of GFP+ cells was determined by flow cytometry.