Viro-MICST Transduction Reagent allows genetically modifying cells directly on magnetic cell purification columns. Based on the i-MICST™ Technology (Integrated Magnetic Immuno-Cell Sorting and Transfection/Transduction), this technology combines cell isolation and genetic modification in one simple and reliable integrated system. For efficient and selective gene delivery to target cells, Viro-MICST can be used in combination with any viral vector and allows you to reduce cell manipulation steps and save time and material.
Highly efficient
Rapid, simple and ready to use
Suitable for all cells
250 µL 

(VMX250

)

500 µL

 (VMX500)

1 mL (VMX1000) 
Storage: +4°C
Shipping Conditions: Room Temperature

Application
Suitable for all viruses: including AAV, Adenovirus, Lentivirus and Retrovirus.

Ideal for mammalian cells: Adherent and suspension cells, primary and hard-to-transfect cells, cell lines, sensitive cells.
RECOMMENDED FOR: Transduction/Infection of cells during magnetic cell purification.
For stem cells, please refer to Viro-MICST Stem Transduction Enhancer.
Results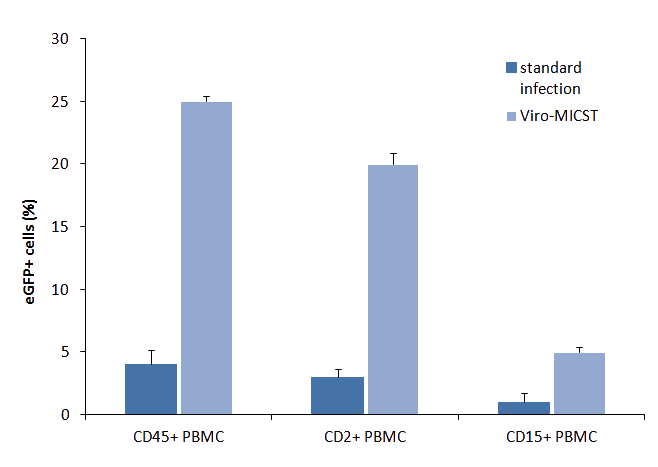 Figure 1
: PBMC selective transduction with Viro-MICST. Human PBMC were labeled with either CD45, CD2 or CD15 microbeads. Each condition was then loaded into i) one unmodified MACS
®
LS column, and selected cells were then infected using standard lentiviral (standard infection) or ii) one unmodified
MACS
®
 LS column followed by a
MACS
®
 LS column modified with Viro-MICST/ LV.eGFP complexes. Infection efficiency was measured by flow cytometry.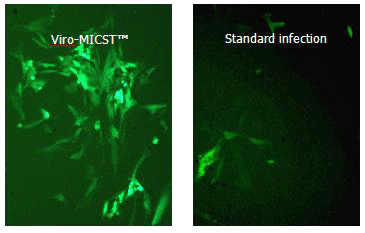 Figure 2
: hUC-MSC adenoviral transduction improvedby viroMICST. 1x10
6
hUC-MSC cells were transduced at different MOI using either standard adenoviral infection procedure or i-MICST. Pictures show hUC-MSCs 2 days after transduction with both procedures at a MOI of 2 (10X).
MACS® is a registered trademark owned by Miltenyi Biotec GmbH and the use of MACS® column is proprietary and patented technology.For any further licensed of MACS® system, please contact Miltenyi.